This meme is hosted by BreakingtheSpine to showcase an anticipated release.
There's Someone Inside Your House by Stephanie Perkins
Publisher: Dutton Books for Young Readers
Expected Publication: September 26, 2017

Summary:
Over a year after her parents sent her away from Hawaii to live with her grandmother in landlocked Nebraska, Makani Young is still adjusting to her new life. She's made a small group of close friends and even flirted with romance, but her past in Hawaii is still hard to forget. And then …one by one the students of her new high school begin to die in a series of gruesome murders. Makani doesn't know who's next on the list. Between this, and a secret scorching relationship with the school weirdo, this school year may turn out to be one to die for …literally. There's Someone Inside Your House by Stephanie Perkins will have you swooning with fear and romance, and is the perfect page-turner for fans of Scream Queens and I Know What You Did Last Summer.
WHY IS IT WORTH THE WAIT?
When was the last time you read a horror slasher fic? I have never read anything like it before. I've seen movies like this, yes. However, I've never encountered a YA novel that brings the elements of psychological thriller and horror in one package. I think this book is a refreshing read! It reminded of the scream queens when I saw the cover of this book. It's dark and it's pink!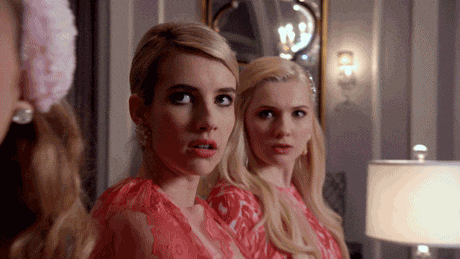 Now, I recently started assigning caffeinated beverages to my blog posts lately. The reason for this is that it motivates me to actually write a blog post. I'm assigning a Starbucks frappuccino beverage for this one, simply because it's cool (quite literally) and popular. Oh yes, the MIDNIGHT Mint Mocha Frappuccino.
To be honest, I haven't read anything by Stephanie Perkins. You see, I'm not a huge fan of romantic contemporaries. I would read them sometimes, but those books are no exactly what I often I like. So I think, There's Someone Inside Your House would actually be my first book from this author. I'm very excited for this book's release! I think it looks aesthetically pleasing with a very eye-catchy premise!
If you live in the UK and you're interested in obtaining an early copy or an ARC, then it's available at Netgalley! I'm crossing my fingers for you. Hope you get approved!
Does this book sound interesting to you?
If so, add it to goodreads and pre-order links are available below: