I've been tagged/nominated by Kat @paperbackdreamer ~ Thank you so much!
Feel free to check out her blog if you're looking for more book bloggers to follow.
---
Now, for the questions!
1. If you could live in any fantasy world which one would it be?
I'd love to live in the Shadowhunter universe because I (stupidly) think that their existence has a purpose. They protect humans against supernatural creatures or BAD supernatural creatures. LOL. They don't have to think of their major, career, etc. They live every moment of everyday as if it's their last. As a result, they learn to appreciate the time they have with the people they love because of the danger of what they're doing. If you're not the type who'd want to get into battle, you'd either join the Silent Brothers or Iron Sisters. Personally, I'd want to create those angelic blades. If I could be of assistance to the Shadowhunters and the Shadowhunters can help humans, then that's good enough for me!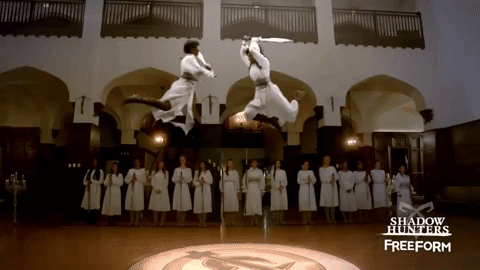 Of course Shadowhunters tv show got it all wrong.
---
2. What's your Hogwarts house?
Been sorted in Slytherin twice.
---
3. What's a book you loved that everyone hated?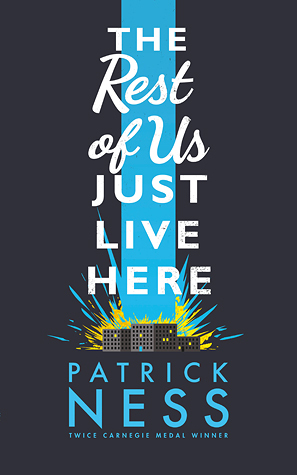 I like the fact that the outsiders (like me) are the main characters in this book. Their lives are kind of meh compared to what the heroes or popular kids are doing, BUT that is the beauty of it all! THAT'S THE POINT OF THIS BOOK.
---
4.  What's your favourite thing about blogging?
Gushing about one of my favorite ships
and talking about my unpopular opinions. HA. But most of all, meeting people with similar interests! I don't have many friends who like to read. I'm serious. Can't find a book club in campus, you guys… 🙂
---
5. What's your favourite book cover?
---
6. Who is your all time favourite character? (Male & Female)
Unpopular opinion: I actually liked Sarah from Labyrinth (there's a book based on the movie, so I thought I could mention it) because I did relate to her at some point in my life. Like Sarah, I was 15 when I had a baby brother and I had to baby sit. I hated babysitting because I had no, nada, zilch experience in taking care of kids. I was a spoiled only child (I think I was). When all of a sudden, I had to take care of a baby. Eventually, I finally assumed the responsibility of an older sister. That's what I saw in Sarah in the end of Labyrinth when she decides to give up her favorite stuff animal for Toby. I thought it was a precious moment that tends to be overlooked by many. Her character development is relatable (esp to me). LOL.
A male character I would mention is Julian from The Forbidden Game (it's been a while since I mentioned this series). Mostly because I LOVE antiheroes, and Julian is definitely an antihero. I liked his character development in the last book and I won't be going into details because SPOILERS! And he's actually like Jareth in Labyrinth!
---
7. Worst book tropes?
insta love, love at first sight
how everything wraps up nicely at the end of the story (happily ever afters that don't make sense)
the special girl trope (it depends on this one because it's repetitive sometimes)
---
8.  What under-rated book do you want more people to read?
this is a trilogy!
---
9.  What movie/tv adaption was just as good as the book?
I don't know if this is an unpopular opinion…
I went to the TFIOS screening night and got the signed poster + bracelet. The film didn't disappoint me, to be quite honest!
---
10.  How big is your TBR & are you coping?
Don't know. Don't ask me about my tbr because it's pretty much an endless amount of books I'd probably never get to.
---
11.  Who is your current number one book boyfriend?
The nerdy math geek and French+Latin speaking dude from
Brandon Calistero? Is that his name? He's basically sort of my dream guy. I'm sapiosexual. This book's a retelling of The Importance of Being Earnest and it's going to be released on the 21st of November. My review for this book had been posted yesterday. I suggest picking it up this month! Best contemporary I've read this year. I'm not even fond of contemporaries, so that's saying something!
---
Now, I'm tagging
If you've been tagged/nominated (and you want to do this tag) answer my questions below and tag me so I can check it out!
Favorite book/s of 2017 (so far)?

Name a book you would recommend to a non-reader. Preferably, for kids. No YA please.

What book/s have you been putting off in reading?

Name a book you would want to be adapted into a movie/tv show?

You get to live in a book you're currently reading (for a day). Like the girl in A-ha's music video (LOL)

Which book were you reading? 😂

Which book (do you own) will you be willing to read out loud in public? 😈

Favorite hero and/or villain?

Name your all-time favorite diverse read/s.

You have the ⚡️POWER⚡️ to bring a fictional character to life. Who do you pick?

Are you familiar with book subscription services? If so, which one is your favorite? If not, have you considered subscribing and which one's do you have in mind?

You could have any 2018 ARC you want. The catch is that you can only have one. Which 2018 release is it?
---
Now we've come to the end of this blog post. Thank you for reading (and sticking around). Hope everyone has a great week!