Can't Wait Wednesday is a weekly meme hosted by @wishfulendings to feature exciting (upcoming) book releases. If you're reading this right now, know that this post is on queue. I did most of these "waiting on wednesday" posts on May because I enrolled in a summer course! Wish me luck. I'll be checking out everyone's posts at the end of the day or end of the week (and probably on weekends).
---
So without further ado, let's begin: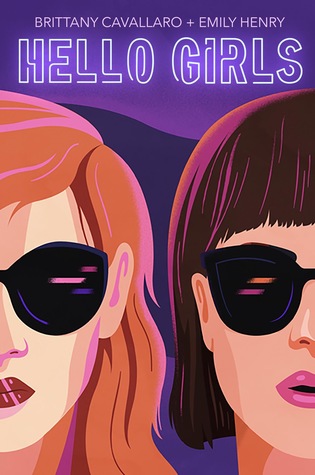 Hello Girls by Brittany Cavallaro and Emily Henry
Publisher: Katherine Tegen Books
Publication: 08/16/2019

Summary:
Best friends are forged by fire. For Winona Olsen and Lucille Pryce, that fire happened the night they met outside the police station—both deciding whether to turn their families in.

Winona has been starving for life in the seemingly perfect home that she shares with her seemingly perfect father, celebrity weatherman Stormy Olsen. No one knows that he locks the pantry door to control her eating and leaves bruises where no one can see them.

Lucille has been suffocating beneath the needs of her mother and her drug-dealing brother, wondering if there's more out there for her than disappearing waitress tips and generations of barely getting by.

One harrowing night, Winona and Lucille realize they can't wait until graduation to start their new lives. They need out. Now. All they need is three grand, fast. And really, a stolen convertible to take them from Michigan to Las Vegas can't hurt.
---
My thoughts
When I went to yallwest in May, this one was one of the books I planned to pick up. Unfortunately, "I Hope You Get This Message" won me over. I meant, its premise won me over. Basically, I was in the Epic Reads line and torn between TWO books. Almost everyone in front of me were picking up "With The Fire on High" and "I Hope You Get This Message" so I guess I decided to pick up the latter. But it doesn't mean I'm not planning to pick up Hello Girls anytime soon. I have a library card and I'm not afraid to use it (cheesy, I know). I'll eventually be reading this assuming my schedule clears up. I'm either planning to trade one of the books I got from yallwest for Hello Girls or I'll be borrowing it from my library.
And let's be real, Emily Henry and Brittany Cavallaro writing a book together seems like a good idea! I've read their books and I can say that I'm curious what these authors can produce together. I'm hoping for Emily to make me emotional and I'm hoping for Brittany to make this story more interesting than it sounds.
I honestly don't know what to expect! I guess I'll have to wait till August.
---
Did any of you attend yallwest?
Which other 2019 releases are you looking forward to?